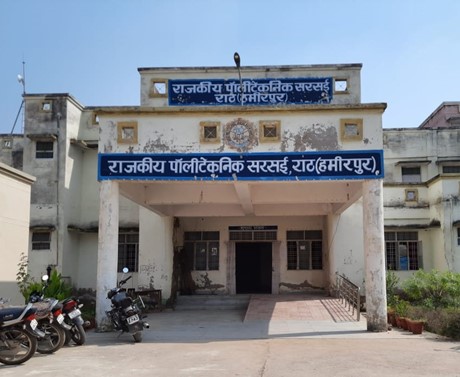 In today's world it is very difficult to get a good job on the basis of basic qualification only. jobs in any field are available to such people, who have a professional degree. In such a situation, polytechnic is a better option from the career point of view.
Government Polytechnic sarsai rath is one of the prestigious institutes for education located at Sarsai in hamirpur. This is an AICTE approved government institute for diploma courses. The institute is situated at sarsai rath road, in hamirpur district, Uttar Pradesh.
Government Polytechnic sarsai rath was established in year 2014 and was functioning in the the campus of government polytechnic mahoba, since 2017 it was conducted in its own campus located in sarsai rath hamirpur, uttar pradesh. It is affiliated to Board of Technical Education Uttar Pradesh, Lucknow.
"We want the education by which character is formed, strength of mind is increased, the intellect is expanded, and by which one can stand on one's own feet." – Swami Vivekananda
On the behalf of sarsai polytechnic rath I welcome you all to this eminent institution.
As Principal, I am proud to say that your future is in the hands of the skilled leadership. Each and every member of staff is rich in talent and tactful which is essential to enhance students social and technical life.
The college has its clear vision and mission objective. In order to accomplish our vision and mission, we take as much effort as possible.
We believe  that education is an effective medium of social transformation. We get encouragement, looking at bright and successful careers of our thousands of students, who subsequently benefit the society. We feel proud that we are part of such an institute, which is shaping the future citizens.
Today, the world and India need a skilled workforce & I believe that diploma course is the backbone of any country's industry and the focus of this programs is to start from theoretical studies, apply that knowledge to practical applications, so as to produce graduates as per industry demand. It helps students to be skilled and, in turn, offers employment opportunities.
As a team working together, we strongly promote academic  Government Polytechnic Sarsai Rath achievement among our students. The cultural, sporting and other successes of all of our students and staff are also proudly celebrated together.
We hope your stay with us be comfortable, fruitful and memorable.
I hope you enjoy your visit to the website.
Sincerely Yours
Mr. Vivek Kumar Saxena
Government Polytechnic Sarsai Rath Hamirpur
we are committed to provide a quality education in their chosen stream which empowering them socially and technically and shape them into future leaders, entrepreneurs and a good human being.
we are committed to create an environment that enhance the intrinsic abilities of our students by grooming their personalities so that they may fulfill the demands of today's dynamic world.
Rath is a small town with a municipal board in Hamirpur district in the Indian state of Uttar Pradesh. Rath is a Tehsil of Hamirpur District. It is situated 506 km southeast of New Delhi.
The general belief is that Rath's name comes from the word "Virat". It is believed to be Virat Nagri, where Pandeva's remained in hiding for one year. Arjuna lived as Brihannala, a dance teacher of Uttara, daughter of king Virat, who was later married to Abhimanyu.
Virat later became Rath. Rath is home to the two great Indian Freedom fighters Dewan Shatrughan Singh and Rani Rajendra Kumari.
Rath is well connected with regular bus services available from nearby towns like Mahoba, Banda, Maudaha, Orai, Chitrakoot, Hamirpur. Rath is not directly linked with railways. The nearest railway stations are Harpalpur(MP) which is 45 km away, and Kulpahar, which is 47 km away. Another nearby railway station is Orai, at a distance of 55 km from Rath.
If we talk about airways Rath is served by the Khajuraho airport (110 km), Kanpur (145 km) and Lucknow (225 km) airports.